Documentation > Basic Tutorials > SIIT
Basic SIIT Run
Index
Introduction
This document explains how to run Jool in stock SIIT mode. Follow the link for more details on what to expect.
In case you're wondering, you can follow along these tutorials using virtual machines or alternate interface types just fine. Jool is not married to physical "ethX" interfaces).
If you intend on using iptables Jool, basic familiarity with iptables is recommended.
Sample Network
You don't need all the nodes shown in the diagram to follow along; you can get away with only A, T and V; the rest are very similar to A and V and are shown for illustrative purposes only.
We will pretend I have address block 198.51.100.8/29 to distribute among my IPv6 nodes.
Jool requires T to be Linux. The rest can be anything you want, as long as it implements the network protocol it's connected to. You are also free to configure the networks using any manager you want.
For the sake of simplicity however, the examples below assume every node is Linux and everything is being configured statically using the well-known ip command (and friends). Depending on your distro, your mileage might vary on how to get the network manager out of the way (assuming that's what you want). Just to clarify, the point of service network-manager stop below is to claim control over your interface addresses and routes (otherwise the ip commands might be ineffectual).
Also to simplify, routing will be reduced to default all unknown traffic towards T. Note that there is nothing martian about anyone's configuration otherwise.
This is nodes A through E:
Nodes V through Z:
Node T:
Because we haven't turned T into a translator yet, nodes A through E still cannot interact with V through Z, but you might want to make sure T can ping everyone before continuing.
Also, enable forwarding on T.
Jool
First, teach your kernel what SIIT is by attaching the jool_siit module to your kernel:
Then, create a SIIT instance and perform the bare minimum configuration:
Here's Jool documentation on instance.
About those iptables rules:

Notice that -s and -d are two standard iptables matches I relatively arbitrarily chose according to the network provided. As per iptables contracts, you should be able to combine any matches as needed.

As far as transport protocols are concerned, SIIT Jool knows how to handle TCP and UDP (as well as ICMP if you count it). (By "know how to handle" I mean "update checksum pseudoheader" and other minor quirks.) Other transport protocols are translated on a best-effort basis. (ie. Jool translates the IP header, copies the rest as is, and hopes for the best.) This is the reason why we chose not to narrow the rules further by means of the --protocol match.

If you do choose to use the --protocol match, please do include a rule that matches ICMP, as it's important that you don't prevent the translation of ICMP errors, because they are required for imperative Internet upkeeping (such as Path MTU Discovery).
Testing
If something doesn't work, try the FAQ. In particular, if you face noticeably low performance, try disabling offloads.
Try to ping A from V like this:
Then ping V from A:
How about hooking up a server in X and access it from D: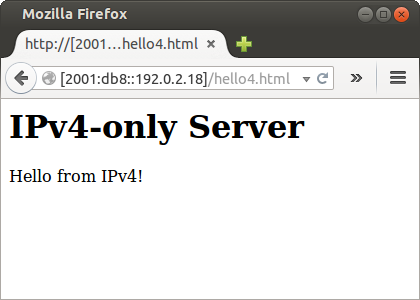 Then maybe another one in C and request from W: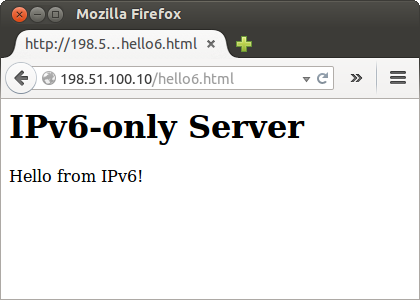 Stopping Jool
Destroy your instance by reverting the instance add:
And unteach SIIT from your kernel by reverting the modprobe if you want:
Afterwords
More complex setups might require you to consider the MTU notes.
Please note that none of what was done in this tutorial survives reboots! Documentation on persistence will be released in the future.
The next tutorial covers EAMT SIIT.